This is definitely not a retcon of the Brendan Frasier 1990's Mummy franchise. Universal is going for a more serious approach this time around. The new franchise is being headed by none other than 'the running man' himself, Tom Cruise. We finally get a short teaser for the upcoming reboot, and it looks really good. Gone are all o the Egyptian clichés. There is not one ounce of humor in this teaser. Check out the first teaser for The Mummy:
Not only did Universal grace us with this extremely short tease for the film, but they also revealed the poster. The poster features the Mummy's sarcophagus strapped down on a cargo plane. The sarcophagus looks spectacular. You can check out the poster below. Universal, you now have my attention. The official trailer should drop soon, but for now, just relish in Cruise trying to convince people who the Mummy is real. Here is the official synopsis of the film:
"Thought safely entombed in a crypt deep beneath the unforgiving desert, an ancient queen (Sofia Boutella of Kingsman: The Secret Service and Star Trek Beyond) whose destiny was unjustly taken from her, is awakened in our current day, bringing with her malevolence grown over millennia and terrors that defy human comprehension. From the sweeping sands of the Middle East through hidden labyrinths under modern-day London, The Mummy brings a surprising intensity and balance of wonder and thrills in an imaginative new take that ushers in a new world of gods and monsters."
The Mummy will kick off what Universal hopes will be a Cinematic Universal Monsters Universe. Russell Crowe is supposed to play a Dr. Jekyll and Mr. Hyde type character, with major crossover implications.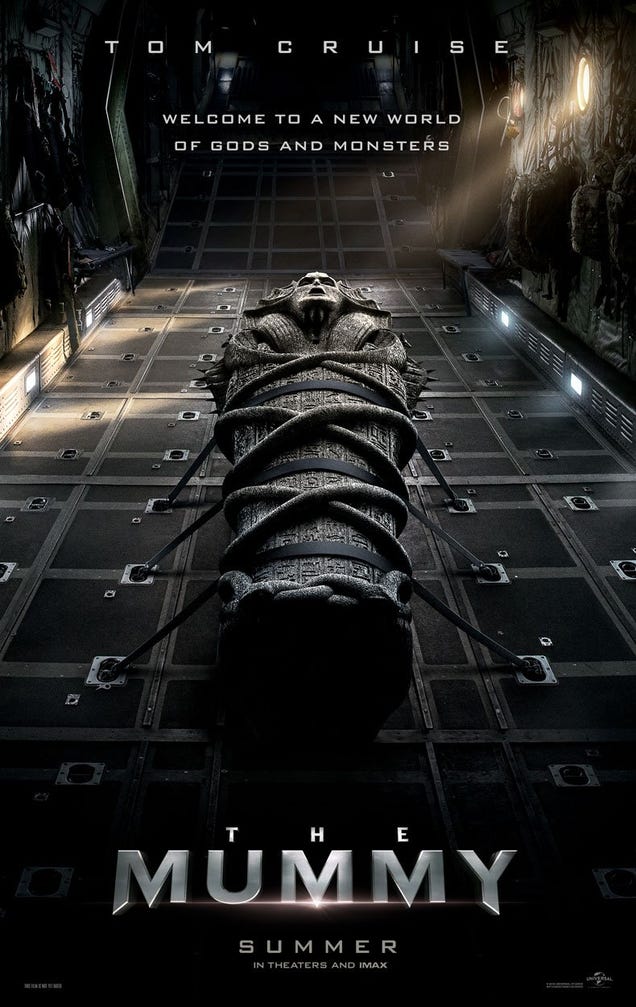 The Mummy stars Tom Cruise, Russell Crowe, Sophia Boutella, Annabelle Wallis, Jake Johnson (The New Girl), and Courtney B. Vance (American Crime Story: The People V. O.J. Simpson).
The Mummy will hit theaters on June 7, 2017.