What Other Epic Movies Are Left for 2017 After John Wick 2 and Logan?
There are a ton of movies to look forward to in 2017. It may seem that we have already seen all that we can this year, but 2017 is a huge year for great movies. I know, I know, Logan, The Lego Batman Movie, and John Wick 2 are done, but have you forgotten about three huge Marvel movies, two massive DC Comics films, and a Mighty Morphin' film? We know that 2017 has given us a live-action Beauty and the Beast that made you weep, but did you forget that 2017 is bringing us a new Star Wars movie?
That's right, 2017 is packed full of great films, and here are PopcornSushi's 2017 Movies that should still be on your radar.
Power Rangers
Release date: March 24, 2017
Some of you may be a little worried about this film, but I think this is all just nervousness about the possibility of a cherished childhood series being tainted. This movie is a completely different idea and mythos for the Power Rangers franchise, but with the man behind Project Almanac, Dean Israelite running the show, you have nothing to worry about.
This version of the Power Rangers is really dark. The Rangers are up against Rita Repulsa and Goldar, an ancient alien threat. With Bryan Cranston as Zordon and Bill Hader as Alpha 5 directing the team, the Rangers must don their Iron Man-esque suits and get their Zords ready to protect the planet against this new threat. This darker version of Power Rangers will be a great movie to watch, and will give you superhero-type powers outside of Marvel that are marvelous. So, get ready, It's Morphin' Time!
Ghost in the Shell
Release date: March 31, 2017
Despite whitewashing allegations, could you really see anyone else successfully pulling off the role of Major Matoko Kusanagi? Scarlett Johansson is flawless in Major in Rupert Sanders vision of the Ghost in the Shell. This film is due out at the end of the week, so you don't have to wait long to see Johansson as a cyborg cop in a leotard.  The visuals are great, and completely realize the anime perfectly. Ghost in the Shell takes place in a technological future where espionage and counter terrorism are at a peak.
It is hard to deny that Johansson looks the part, but how will the film's plot stand up? Looking at the world they created for the film, you can't help but say that this film was well worth the decade-long wait.
Fate of the Furious
Release date: April 14, 2017
What is this, Fast and the Furious 18? We cannot get enough Fast and the Furious, and neither can you. This franchise never fails to give us a million ways to destroy a car and look cool doing it. The last time we saw the group, they were saying goodbye to Brian O'Conner. This time around the team has to face-off against a familiar face, Dominic Turretto. Can the team figure out why Dom is willing to turn his back on family, before it is too late?
Fate of the Furious is going to be one of the best popcorn movies of the year, which never disappoint. Starring Vin Diesel, Jason Statham, Kurt Russell, Dwayne Johnson, Hellen Mirren, and Charlize Theron.
Guardians of the Galaxy Vol. 2
Release date: April 28, 2017 (UK)/May 5, 2017 (US)
We have been 'Hooked on a Feelin' since the opening credits began on James Gunn's epic entry into the Marvel Cinematic Universe began. Guardians of the Galaxy was a surprise hit, and Guardians of the Galaxy Vol. 2 looks to pick up the hijinks and action right where the first film left off. There is an entirely new mixtape this time around, and the team will face a new foe, Ayesha (a.k.a. Her/ Kismet). There are a few new additions to the team this time around, and Groot has become Baby Groot. Isn't he cute?
If the teasers are any indication, 
Guardians of the Galaxy Vol. 2
is going to be better than the first movie, and why wouldn't it? It has a cameo from Strange land in it, Benedict Cumberbatch will reprise his role as Stephen Strange for a scene or two. Next month is going to be great!
Alien: Covenant
Release date: May 19, 2017
Are you ready for fear to make its way back into the Alien franchise? It seems as though Ridley Scott remembered that the Alien franchise was all about fear when he made Prometheus, but with the follow-up film, it is all about fear. The events of Alien: Covenant take place on a foreign planet that is full of Earth-like scenery and stunning plant life, unfortunately, there is not a single living animal. This is the crew's first sign that something isn't right. Scott heads this film that is closer to the original two films in the franchise.
Michael Fassbender is Michael, an android much like his role in Prometheus although that android met a dastardly end. It appears that Michael has anterior motives, much like his counterpart on the Prometheus. I love seeing Ridley Scott back in his comfort zone. 
Wonder Woman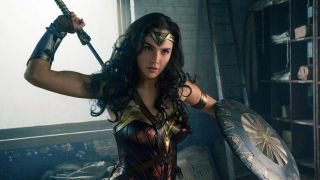 Release date: June 2, 2017
Wonder Woman is setting the stage to best the first sign of positive change for a waning DC film franchise. Will Wonder Woman turn the streak of near-misses around? The last film to fall on its face was the Zack Snyder-led Batman v Superman, which was a  film that showed promise yet lost itself it too many plot lines and over-abundant spectacle. Wonder Woman is Gal Gadot, one of the brightest lights of Batman v Superman. Her first stand-alone film could be a big game-changer for DC and Warner Brothers Pictures.
Diana is an Amazonian Princess with a big heart, who sees the need to come out of the shadows and defend humanity in the face of a World War. Patty Jenkins (Monster) leads Wonder Woman, and the right pieces might be in place to make this a truly memorable film.
Kingsman: The Golden Circle
Release date: June 16, 2017 (UK) / October 6, 2017 (US)
Kingsman: The Secret Service 
was a huge surprise hit in 2014, lead by Aaron Egerton and Colin Firth, the film was witty, violent, and full of action. If you haven't seen 
Kingsman
yet, then you need to get with it. The second film in the series, 
Kingsman: The Golden Circle
hits theaters this summer, and promises to bring just as much excitement and brutality as the first film. The first movie left a lot of open questions about the state of the 
Kingsman
 that the sequel is bound to answer. A lot of Hollywood big-hitters are on board for the sequel, including Halle Berry, Channing Tatum, Jeff Bridges, Julianne Moore, and Vinnie Jones. We will see what Eggsy and Merlin have in store for us this summer!
Spider-Man: Homecoming
Release date: July 7, 2017
There has never been as much excitement for a Sony Spider-Man movie, as there has been for Spider-Man: Homecoming. You can thank Sony for brokering a deal to allow Marvel to basically make the next Spider-Man movie for them. Marvel didn't skip a beat welcoming the web-slinger into the family, and the deal even allowed Marvel to use him in their movies as well. Tom Holland won fans over in Captain America: Civil War, and now in his stand-alone film fans will get a whole films of Holland's Spidey!
Robert Downey Jr. will star in the film as Tony Stark/ Iron Man and they landed Michael Keaton as the film's big bad villain, The Vulture. For all intensive purposes, Marvel has yet to fail at the box office. A few of their movies didn't fare well with audiences (Iron Man 3), but Tom Holland's Spider-Man has already won fans over, so it will be hard to disappoint them. This movie will expand the MCU a bit more, and will certainly be a must-watch for fans of Marvel and superheroes.
Stay Tuned to Part 2 of the Most Anticipated Films Still Coming in 2017